---
Wellness Retreats are often seen as the domain of women, typically booked for girl getaways, couple and solo health holidays. But taking a break from an overworked, stressful life is important to men's health as well. In fact, there's been a significant increase in men engaging in such getaways, according to Health and Fitness Travel. "Since 2010 we have seen a 42 percent increase in men booking wellness holidays," said Paul Joseph, Health and Fitness Travel founder. "Men investing in their wellbeing and appearance is now so normal; many are living with extreme unprecedented stress due to growing work demands, and we have seen a growing interest from men towards self-care and health awareness."
Men Need to Retreat for Stress & Anxiety
Over the past decade, stress, depression, anxiety and suicide levels have all risen in the male population all around the world. This raises the importance that men need to Retreat as well. Men are in fact more susceptible to depression and anxiety brought on by stress than women are, and are more likely to isolate themselves rather than seek help. Women in general are more likely to seek assistance and support when it comes to their overall health and wellbeing. Men on the other hand are far more likely to deal with issues on their own, spurred on by the pressure of society and the media to 'man up' when faced with a challenging situation. While women are likely to communicate and open up to other women in social situations, men will often do the opposite and gloss over the more serious issues in their lives in order to avoid an uncomfortable scenario.
Chances are, we all know men in our lives who are stressed, perhaps unhappy, or in general need to some down-time and reflection. Studies have found that exercise, socialisation, and mindfulness practices were the most beneficial factors in helping men to avoid or deal with stress and depression. Evidently, men can certainly benefit from the benefits that a retreat offers.
A wellness retreat can be an enjoyable and powerful way for men to reconnect and rejuvenate in a supportive and uplifting environment.
Why Shanti-Som Wellness Retreat is great for Men
We are known to be a very open-minded place. As guests step in, we really aim to create a space where absolutely everyone feels welcome and comfortable in their own skin. There is no pretense or agenda. Shanti-Som does not specifically cater for women over men, a particular age group or people who are experienced at Yoga and fitness.
We have noticed over time an increase in the variety of guests, meaning more men and LGBYT community. We are proud and honored, that through word of mouth, people visit us because of our renowned hospitality.
Wellness Programs for Men
Whilst we don't have specific programs for men all our Retreat packages are suitable for both men and women. In our experience most men prefer our Fitness Retreat where they can extend their fitness routine with a personalised trainer. There has been a big increase in couples retreating together where they do a combination of fitness and Yoga with a Detox Retreat. This is a great way to encourage and motivate each other to embark on a healthier lifestyle together.
There can be a bit of apprehension for men when considering a Wellness Retreat, but times are a changing and physical and mental wellness has become such an important aspect of our daily lives. At Shanti-Som we always cater to each individuals' personal goals and preferences. We can create a Bespoke Package if there are some aspects which you really don't want to participate in and others that you want more of.
What you can Expect at a Wellness Retreat
Shanti-Som retreat programs are designed to give you flexibility and maximum opportunity to enjoy and learn on your pace and at your time. You may choose a Yoga class in the outdoor pavilion, a vigorous workout with our Fitness Trainers, or a stimulating hike through the Andalucía hills followed by time to read by the outdoor pool. The opportunities are there so you can choose what matters most to you without any stress on how to fill your days.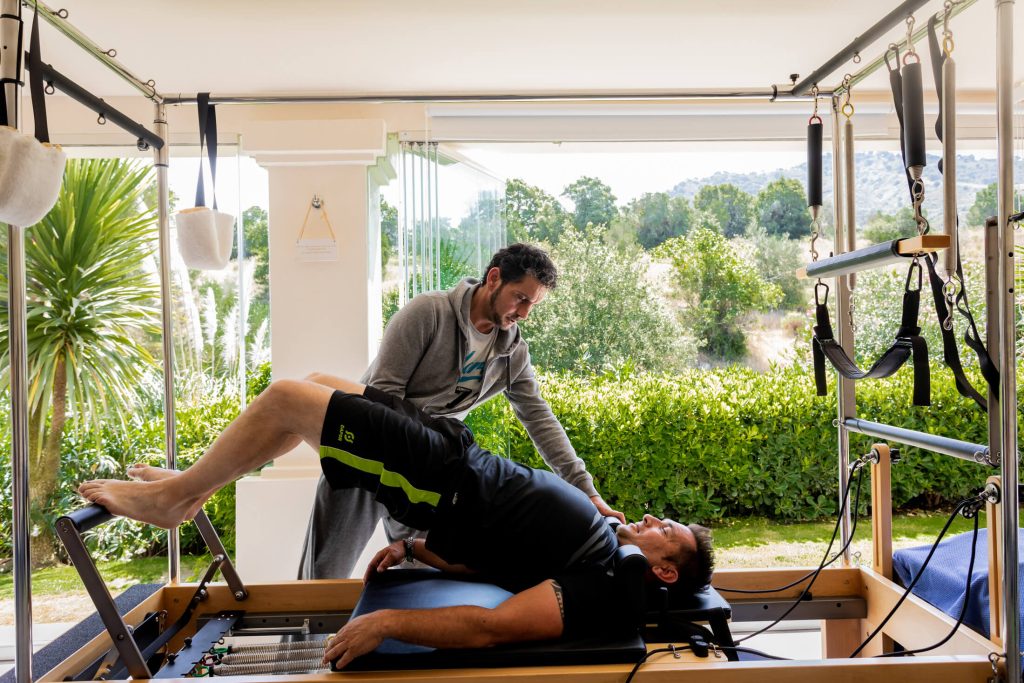 Early Morning Yoga
Working out first thing in the morning also has its benefits, as you have a higher level of testosterone (around a third more compared to evening workouts), meaning more energy and more muscle gained. Yoga studios have been predominantly filled with women, with men drawn to activities with higher levels of endurance such as CrossFit. However, Yoga is not at all gentle and easy. Like most types of exercise, you can dial up the intensity and duration to suit your fitness levels and mood. Vinyasa Yoga will strengthen you body all over and leave you dripping with sweat and feeling positive for days. Why is Yoga good for men? Yoga is a great workout for men who often have tight muscles and poor flexibility- the best way to combat this is with stretching and gradually training your body.
There has also been a long-standing relationship between martial arts and yoga, and we've seen professional footballers, basketball players and Olympic athletes to soldiers on tour including yoga practices into their lifestyle.
Personalised Health Screening
At Shanti-Som we offer a personalised health screening which is conducted by experienced local physicians. It's important to have a periodic health screening to understand any underlying issue which can be detected early and prevent long term problems.
A personalised wellness programme is then devised for you based on these results, which will give advice on certain foods to eat, specific exercises, and other lifestyle adjustments.
Holistic Massage
For those who excessively train, massages are a good release of tension and can soothe aching muscles. A recent study shows that regular massages can help muscle regeneration by increasing blood flow post-workout. Our talented Spa Consultants are experienced in massages for men and can alter the pressure according to personal preference and work on any injuries or muscle aches.
Hike in Nature
Our Retreat is the best place to hike, we are amongst nature in the rural mountains of the Spanish countryside and we think it helps bring a rustic authenticity to the overall experience.
At Shanti-Som we have daily group hikes which is a key feature of our location. Andalusia meets all the requirements and offers the best conditions for hiking. The fantastic climate and stunning natural spaces that host splendidly preserved areas and the greatest diversity of landscapes and ecosystems in Europe together create the best conditions for enjoying nature and hiking.
Healthy Eating
Food is an important aspect to our daily lives and although health is our focus, we don't compromise on taste or heartiness. Most men don't really feel like sitting down to a bowl of salad leaves and juice for dinner so, our restaurant aims to capture robust honest flavors of the East and West. Guests will be transported to sun-soaked Bali, Vietnam and Thailand with delicious mezze platters, fresh salads, specialties from our Asian Wok and flavourful curries. For those on our Detox or Weight Loss programs we have special menus created by our Nutritional expert that are not only perfectly balanced for our daily dietary requirements but also delicious to eat.
Conclusion Why Men Need to Retreat
Looking good on the outside doesn't count for much if you don't feel good on the inside, too. That's why a Wellness Retreat is a great way to start your journey for a happier, healthier and more fulfilling life. One of the biggest challenges we face is normalising conversations on mental health issues such as burnout, stress and anxiety – or, to put it simply, talking to each other about how we're feeling. If you're feeling tired and lethargic all the time and just generally stuck in life, or simply just needing some time away for yourself, then Shanti-Som can provide exactly what you need. A safe place to get away from stresses, responsibilities and rush of daily life. It's time to take charge, connect with your inner self and find peace so you can approach relationships, work and life with your best footing.