3 Reasons to go on a Fitness Retreat Holiday
---
If you are just starting out with an exercise program or you aren't seeing results with your current routine, then going on a Fitness Retreat is a great way to dedicate time and focus on your health. By dedicating a week to your fitness it will allow you to be immersed in your health goals with the right support, equipment and environment. At a Retreat it's unrealistic to expect you will lose 10 kilos and walk out with a 6 pack. But you will be able to build on your fitness levels and knowledge alongside likeminded individuals, trainers and coaches, where no one is 'too unfit' or asks 'silly' questions.
You can finally feel confident to enter a gym knowing how to handle the equipment and weights, and be armed with the knowledge to choose the best exercises for your body and mind.
At the end of the day, it's still a holiday so there is plenty of time to relax and enjoy new activities as well as indulge in meditation and spa treatments.
Here are 3 reasons why a Fitness Retreat is a great idea:
1. You Want to get into Fitness, but Don't Know Where to Start
If you're new to exercise or aren't seeing results with your gym workout, you may not realize how complex it is. We're not born with the knowledge of how to do it.
At a Fitness Retreat you will have expert knowledge on hand by way of personal trainers, Yoga instructors and nutritional coaches.
This team of experts know everything that goes into a complete program including nutrition, cardio, weight training and flexibility training.
Here are some ways a Fitness Retreat can help you:
Figure out the right activities: You might not even know what exercise would work for your body, schedule or available equipment. A trainer can suggest activities that fit all of those areas.
Maximize your efficiency: A trainer can help you get the most out of your workout while also making sure you don't overdo it.
Put together a reasonable program: A trainer can guide you as you start working out and help you figure how much exercise you can handle in the beginning and how to fit it into your lifestyle.
Teach you about balanced healthy eating: A nutritional coach will provide you with the knowledge on how to eat a balanced diet without sacrificing on taste or having to spend hours in the kitchen preparing.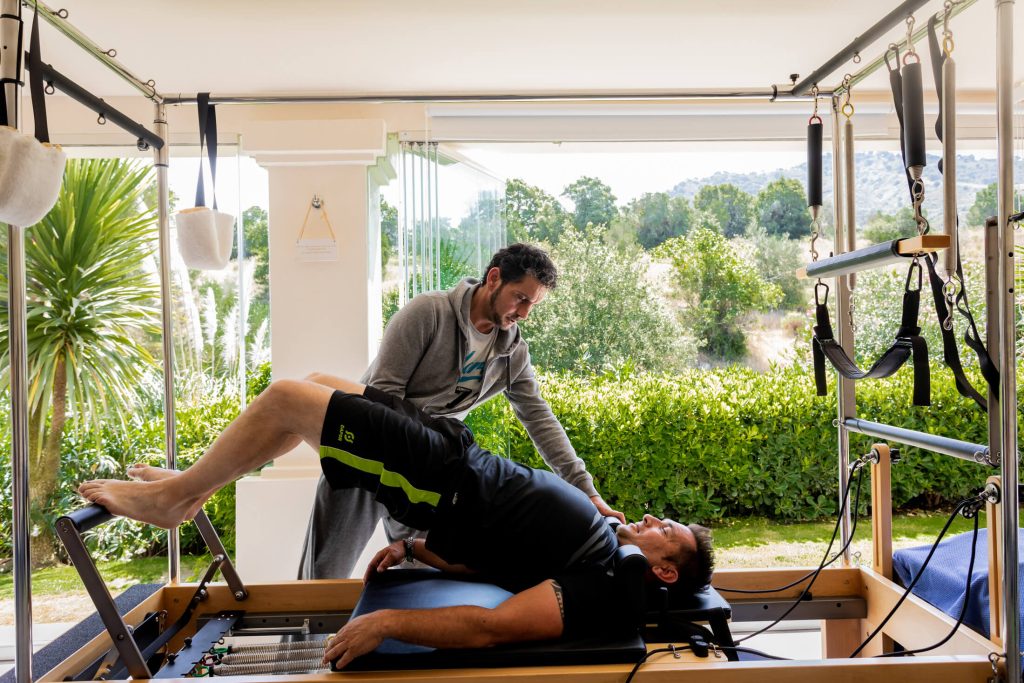 2. You want to lose weight but nothing is working
If you've been exercising consistently for several weeks or months and aren't losing weight or reaching your goals, there are a few ways a Fitness Retreat might be able to help as the health experts can:
Evaluate your current program: By looking at what you're already doing, a trainer can look for ways to change or tweak your workouts to make them more efficient and effective. Ask your trainer how you can incorporate activities into your daily life without feeling bored, such as circuit training, high intensity interval training, strength training, yoga, pilates and working out from home without equipment.
Examine your goals: health experts can help you figure out if your goals are realistic in relation to your lifestyle and work schedule. Are you looking to get fit? Recover from an injury? Lose weight or just live a healthier lifestyle? At a Wellness Retreat there is a holistic approach to ensure your goals can be achieved in a long lasting and sustainable way.
Teach you: Embarking on a fitness journey can be daunting, but knowledge is power. Whether you want to learn how to improve your diet, lift weights properly or learn a new exercise to add to your routine, a Fitness Retreat will have all the answers. You'll go through such things as:

Learning good form: To get the most out of your workouts and avoid injury, you need to do each exercise in a certain way. A trainer can offer cues to help you get your body into the right position to ensure you are doing each move correctly (and safely).
Showing you how to lift weights: A trainer can help you decide how often to lift weights and how to choose your weights, sets, and reps. They can create a variety of workouts for you to continue doing when you're ready to go out on your own.
Understanding targeted exercises: Knowing a variety of exercises that target different muscles allows you to create your own workouts.
3. You want to learn how to eat healthy & delicious foods
Do you want to eat healthy but just don't have the knowledge, time or budget to make it happen?
What makes fitness travel holidays so popular is the careful attention to detail which usually includes amazing and healthy food. Eating healthy doesn't mean simply getting bland salads and vegetables for your meals, you will be pleasantly surprised at the delicious cuisine you will be served for breakfast, lunch, and dinner. Be inspired by the meals you eat and the nutritional guidance you get on these holidays will keep you motivated for a healthier lifestyle.
At a health retreat, you receive 1:1 Nutritional Coaching which will:
Explain nutrition and what it can do for the client
Assess clients' health needs and diet
Develop meal plans, taking both cost and clients' preferences into account
Evaluate the effects of meal plans and change the plans as needed
Promote better nutrition by discussing your diet, nutrition and the relationship between good eating habits and your general lifestyle.
Conclusion on why go on a Fitness Retreat:
Fitness is for everyone! Whether you are a total beginner and have no understanding of lifting weights or using fitness equipment, or a 'can't miss a day at the gym' kind of person, there is something for everyone.
An interest and passion for bettering yourself is the most important thing.
Wherever you are on your exercise journey, a personal trainer can offer support, tips, and training as you work to reach your fitness and weight loss goals. A Fitness Retreat is a great way to immerse yourself in your wellbeing in a safe and comfortable environment. Together with a combination of yoga, hiking, meditation, spa treatments and nutritious meals- you'll be armed with the confidence and knowledge to continue your fitness and weight loss journey.
At Shanti-Som we offer a variety of different Fitness Retreats, Our results speak for themselves with guests loosing up to 10+ kilos in one Retreat. Contact our friendly staff to discuss your personal goals, or see our fitness program for more details.